2006 NUMBER ONE, TWO & THREE RRCUS RIDGEBACKS
2006 NUMBER ONE RRCUS RIDGEBACK - PEE-DEE'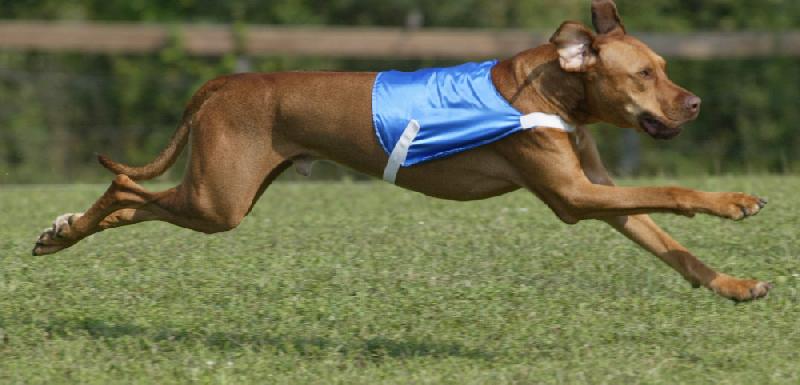 Pee-Dee' is the 2006 #1 AKC, #1 ASFA & #1 RRCUS Ridgeback
Pee-Dee' is also the 2006 NUMBER ONE AKC ALL-BREED SIGHTHOUND !!!
KUSHINDA TAKES A CLEAN SWEEP ACROSS
AKC, ASFA, RRCUS & ALL-BREED SIGHTHOUND STANDINGS!!!
Pee-Dee' took back-to-back BEST OF BREEDS July 2nd & 3rd, 2006 at THLC's ASFA Trials
under Cindy VanVliet & Jonathan Jordan, defeating 28 other Ridgebacks!

2006 NUMBER TWO RRCUS RIDGEBACK - MAGNOLIA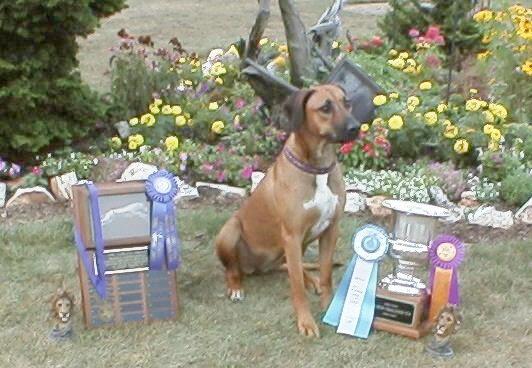 Magnolia is the 2006 #3 AKC, #2 ASFA & #2 RRCUS Ridgeback
Magnolia WON the WINSTON CHALLENGE CUP on July 23rd, 2006 at the Upper Chesapeake Bay Saluki Club's
ASFA Grand Prix. The WINSTON CHALLENGE CUP was donated by "Friends of Winston" in honor of
DC Bridon's Sir Winston of Orion CDX, SC, FCH, the first RR ASFA Field Champion.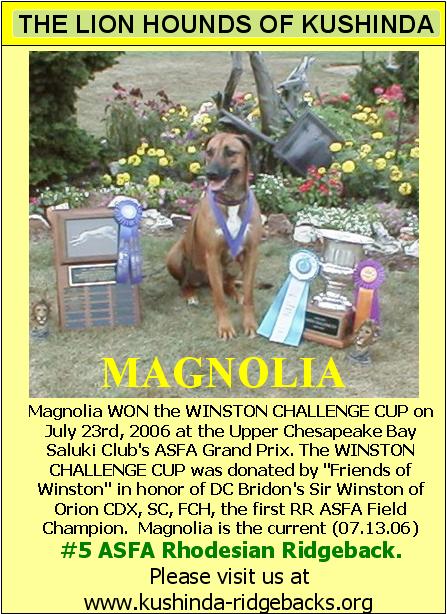 Magnolia finished her AKC & ASFA Field Championships! She finished her AKC Field
Championship on June 4th, 2006, taking her second 5pt major (w/12 dogs in competition)! She earned
her first 5pt major at GVFRRC. She finished in only 6 Trials!

2006 NUMBER THREE RRCUS RIDGEBACK - TAKOMA
Takoma is the 2006 #2 AKC, #5 ASFA & #3 RRCUS Ridgeback

2006 NUMBER EIGHT RRCUS RIDGEBACK - MARQUIS
Marquis is the #11 AKC, #8 ASFA & #8 RRCUS Ridgeback (08.04.06)
Marquis finished his ASFA Field Championship on July 3rd, 2006 at THLC!

2006 NUMBER ELEVEN RRCUS RIDGEBACK - PANDA
Panda is the #14 AKC, #17 ASFA & #11 RRCUS Ridgeback

2006 NUMBER TWELVE RRCUS RIDGEBACK - OLIVIA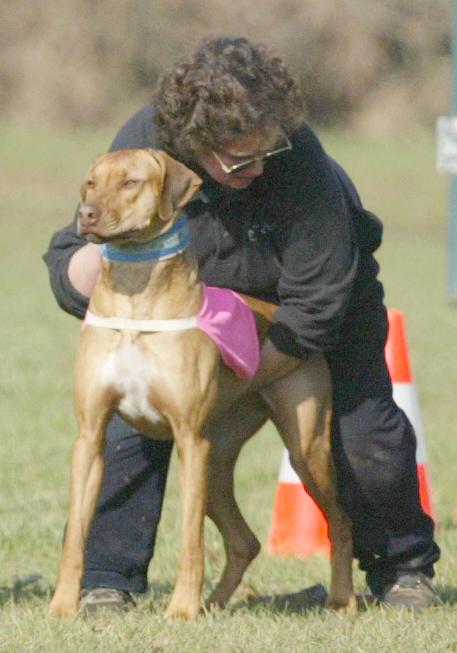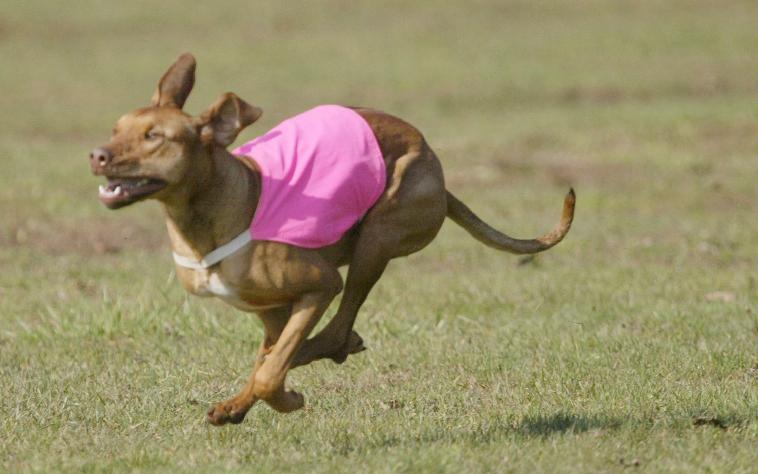 Olivia is the #16 AKC & #12 RRCUS Ridgeback

2006 NUMBER THIRTEEN RRCUS RIDGEBACK - ERIN
Erin is the #20 AKC & #13 RRCUS Ridgeback


KUSHINDA RIDGEBACKS EARNING TITLES IN 2006
AKC FIELD CHAMPIONSIP @ 9 years old - DANIKA

AKC MASTER COURSER - GAIL

AKC SENIOR COURSER - JEAN-BOY'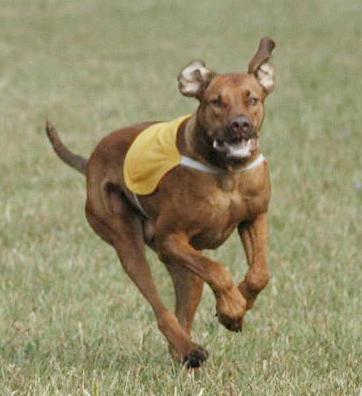 AKC SENIOR COURSER - NOAH

AKC & ASFA FIELD CHAMPION - OLIVIA

AKC SENIOR COURSER - POLONIUS

AKC FIELD CHAMPION - TAKOMA

Finishing their AKC Junior Courser titles at CHAMP June 4th, 2006
are 3 of the Walton litter: (7th generation Kushinda dogs):
KUSHINDA GOOD NIGHT OLIVIA UK - Olivia
KUSHINDA GOOD KNIGHT POLONIUS UK - Poppy, and
KUSHINDA GOOD KNIGHT JEAN-BOY' UK - Jean-Boy'

KUSHINDA AWARDS WON 2006
ASLAN CUP - MAGNOLIA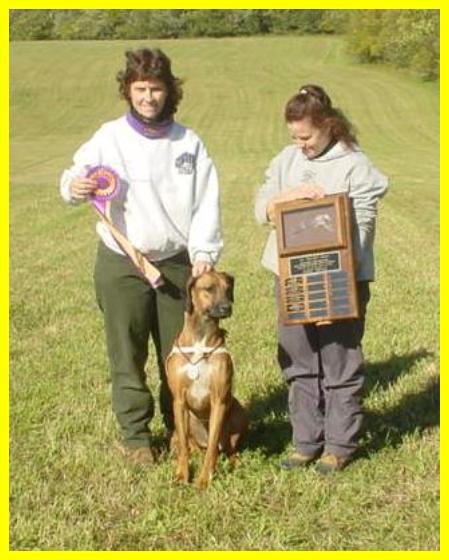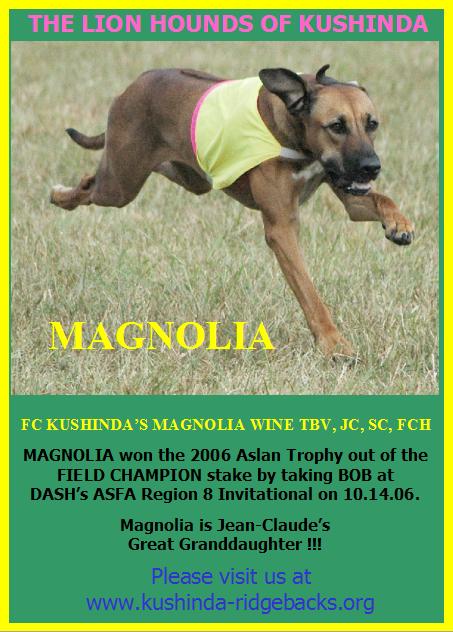 "The Fully-Functional Rhodesian Ridgeback"
KKB v5.0 &copy 1995-2007 by Dr. Kammi K. Hefner and Kimma B. Hefner
Kushinda@pobox.com

This page was last updated July 29, 2007.



Greetings from Kushinda! The next best thing to being here! Kushinda Kennels is owned and operated by Kimma B. Hefner and Dr. Kammi Kai Hefner. We have been breeding, raising, training, handling, and showing Rhodesian Ridgebacks for twenty-three (23) years. We are both AKC licensed Lure Coursing Judges and we are also members in good standing of the Rhodesian Ridgeback Club of the United States (RRCUS).
The Lion Hound Ridgebacks of Kushinda present the
Home of 22 Owner/Breeder/Handled Field CHAMPIONS
Home of 154 Owner/Breeder/Handled AKC Field Titles
Home of 15 Owner/Breeder Ridgebacks (More Pending ...)
Home of 7th Generation Kushinda Ridgebacks
Please contact us at Kushinda@pobox.com or AOL IM KammiKai if you are interested in FOSTERING a Rhodesian Ridgeback!
Click here to see our 2006 Kushinda String of Show Dogs!
Click here to see our 2006 Kushinda String of Coursing Dogs!
Click here to see some of our 2005 accomplishments!
We are very excited about putting information about Kushinda Kennels on-line for your veiwing pleasure. We will be happy to answer questions about Kushinda Kennels, our performance records, individual Kushinda dogs, raising a Ridgeback puppy, our training methods, lure coursing the Ridgeback, etc. We look forward to hearing from you.
Visit Our 2006 Show & Field Trial Schedule

So, please sit back and enjoy our web site!