---
Currently (06/18/16), Kushinda has several younger dogs (<1-5 years of age) available for placement (please watch for new updates or contact us). Please note, not everyone is fetatured here. Be sure you have a "physically" fenced in yard appropriate for a Rhodesian Ridgeback (unless you live in a DC-ish environment) - please call me, let's discuss your situation. As I update this page with information and pictures, please don't hestitate to call and discuss a possible adoption of a Kushinda Ridgeback. It's always a good idea to email us your completed Kushinda Interview Sheet then please call me for a followup! I can uually be reached after 7:00pm EST at 304 216-3617. If you don't reach me please drop us an email at Kammi@pobox.com so we can respond to your inquiry.
Contact me for my availability for scheduled visits (please email me your completed Kushinda Interview Sheet to kickoff this process)located just north of Chambersburg, PA 17201. I describe our Adoption Process in greater detail on the first page of our Kushinda Web Site after all the puppy photos.
Forget the house training, forget the crate training, it's already done! Yes, it's possible that you could be the next proud owner of a Kushinda Ridgeback! If you have a fenced-in yard, some common sense, and lots of love, don't wait any longer!

Cauliflower (dob: 04/21/14)
D'Ante (dob: 02/24/10)
Heart (dob: 02/24/10)
Major (dob: 05/21/14)
Matlock (dob: 02/13/15)
Vancouver (dob: 02/24/10)
Photos taken 12/12/15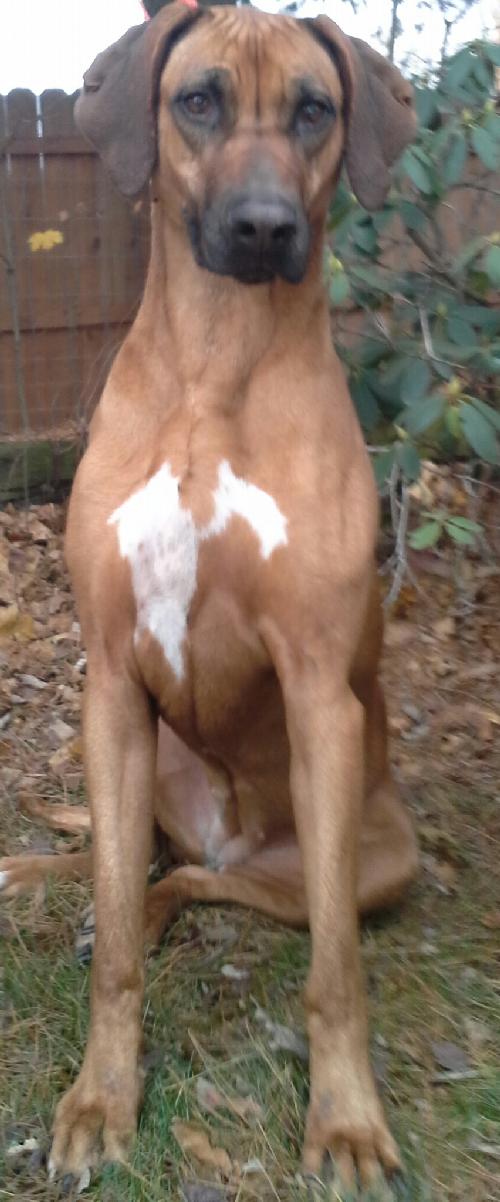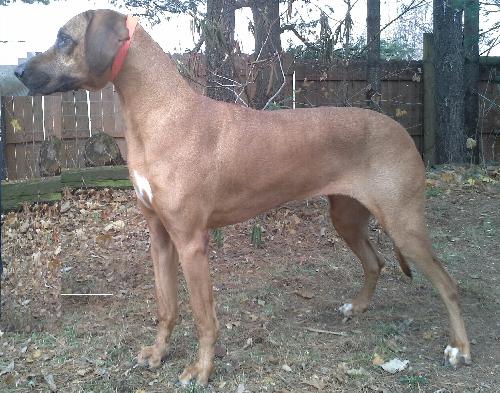 At this time it's a good idea to read more Kushinda Philosophies to answer many of your questions.
Then, if you are seriously interested in a Kushinda Puppy/Dog, please visit Kushinda's Relevant Documents page. Download the Kushinda Interview Sheet and Sample Contract. Please read each document. Complete the Kushinda Interview Sheet and contact us to discuss the adoption.
If you might be interested in a young puppy, please visit Kushinda's Available Puppies, or if you are intersted in adopting an older Kushinda dog (retired Champions), please visit Kushinda's Available Older Dogs.
If you would be interested in meeting Kushinda "up close and in person," please contact us to join the Kushinda-List (a Ridgeback discussion list) to monitor our schedule and talk with other Kushinda owners. We would love to meet you!


Give Kammi a call [304 216-3617 after 7pm] to find out more about adoptions!

---
History of the Ridgeback
"The Rhodesian Ridgeback was developed in Rhodesia by the Boer Farmers. He was bred to survive the rigors of harsh country and climate where only the fittest survived. He had to be easy to care for and inexpensive to maintain. The Boer required a good hunting dog with stamina to travel long distances over varied terrain to locate game. Once the game was sighted, the dog had to have enough remaining endurance to, in the case of large dangerous game (lions and the like), corner it and be agile enough to escape injury while holding the quarry at bay."¹ After the hunt however, the Boer expected his dog to remain at his side as a loyal companion, on guard constantly protecting not only his family but his livestock and property as well.
At The Lion Hounds of Kushinda, we strive to produce this "fully-Functional Ridgeback" that is able to demonstrate the requirments of the Boer Farmer, by avidly competing in agility, conformation, lure coursing, obedience, and tracking; as well as serving mankind as registered Therapy Dogs.
¹ The Rhodesian Ridgeback by Diane Jacobsen.
At Kushinda we place each puppy in a suitably matched home.
---
Next go to, Our Show & Field Trial Schedule

---
New Puppy/Dog Owner's Interview/Application Form,
Sample Pet Contract ,
Health Guarantee ...
If you are interested in a Kushinda Fully-Functional Performance puppy/dog, please download and review Kushinda's Relevant Documents.