<!*********************************************************************>
---

XXV. New Owner agrees to keep said puppy/dog on the type of food, feeding amounts, vitamins, vaccination, and vaccination scheduled recommended by Kushinda for a minimum of three (3) months after the puppy/dog is acquired. Any exception to this shall be discussed and agreed upon in advance with Kushinda. Otherwise, all health guarantees are null and void as set forth in this Contract and Health Guarantee.
New Owner agrees to keep puppy/dog on Dog Bloom VM Supreme at the dosage recommended by the manufacturer for Ridegbacks for their entire lifetime. Dog Bloom is available form The Nature's Farmacy at 800 733-4981, or other sources.
New Owner agrees to keep puppy/dog on NuVet Plus at the dosage recommended by the manufacturer for Ridegbacks for their entire lifetime. NuVet Plus ™ is available from NuVet Labs™ 800 474 7044 order code 35386.
Taken from the Kushinda Contract and Health Guarantee - Word 6.0 doc. <!*********************************************************************>
---
Dog Bloom Supreme
<! First Row >

Dog Bloom VM Supreme is a product highly endoresed by Kushinda. I have been using Dog Bloom Supreme for many years now, and find that it has become a critical part of the success of the Kushinda Performance dogs, as well as providing our family companions with the proper vitamin supplements.

Dog Bloom Supreme is the most complete, advanced, high analysis highest performance, lowest usage cost canine vitamin mineral supplement in the world!

You can expect to pay about the following for Dog Bloom Supreme:

11 oz. $9.85

2 lb $20.70

5.5 lb $42.90

<! End Table of Contents --> <!*********************************************************************>
---

We at Kushinda have been using NuVet Plus to give our dogs that extra "umph" in maintaining a complete, and healthy diet. NuVet Labs's main purpose is to help increase your pet's longevity and quality of life. NuVet Plus provides the very best human-grade, natural ingredients available and utilize the latest advances in medical, veterinary and nutritional science.
To order NuVet Plus for your Kushinda Ridgeback, you will be required to submit the following Order Code: 35386
If you have any questions about NuVet Plus please ask Cory, he will be more than happy to address your concerns!
The following Message 975 of 1287 was taken from the Kushinda List.
From: KBHefner
Date: Sun Jun 11, 2000 11:04pm
Subject: NuVet Plus Herbal Supp for Your Pet

Hi Everyone,

I would like to take the next few weeks to review the ingredients in NuVet so that we can all better understand what we are giving our pets...I will do them in families two/three at a time.

NuVet Plus is ment to be a long-term nutritional therapy that should be given to the companion pet daily. Recent reports from pet owners and independent testing has indicated that NuVet Plus will boost the immune system, thereby presenting a front line defense against free radicals. NuVet is 100% guaranteed that it will perform at the highest effectiveness possible..

Major consideration of the NuVet Scientist in formulating NuVet Plus was the natural, human grade quality of ingredients and their nutritional values, as well as the bio digestibility and utilization into the cellular framework. They have designed a cutting edge formula that will help increase your pet's longivity and quality of life. Eight years were spent experimenting with a variety of vitamins, antioxidants, minerals and herbs. Today NuVet Plus provides the most powerful, synergistic defnese against the harm caused by free radicals.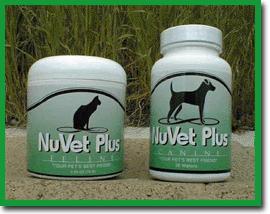 Alfalfa is known as "King of Plants." Alfalfa and its roots have been used for centuries in many cultures. The herb belongs to the lugume family,m closely related to beans and peas. Alflfa is an excellent source of vitamines D, E and K, beta-carotene, minerals, fiber, chlorophyll, calcium, proteins nad fats. It is especially rich in the amino acid trypophane, Vitamines A, D, and K and iron. Alfalfa is considered to be a very nutritious herb, and is used to increase appetite, alleviate certain allergic reactions and help poor digestion. It may also reduce the inflammation due to arthritis and rheumatism.

I have personally seen this in my 13 yr old bitch...she has been in relief from her arthritis for a 1 1/2 now... her appetite never suffered but her digestion is much better now...her stomach is settled and she does not have cravings.

Alpha Amylase is a soluble fiber digestant. NuVet Plus uses the finest pet supplement available; it must be able to be digested as efficioently as possible. Alpha Amylase creates the means by which the ingredients will be absorbed into the body as rapidly as possible without diminishing NVP powerful antioxidant capabilities.

Kimma Hefner at Kushinda

NuVet Plus
Call 1 800 474 7044
Order Code 3538-6


<!*********************************************************************>
---
PEAK Grow is a premium puppy formula and dog milk replacer. Give your puppy a healthy head start and sound foundation for growing puppies!

TO MAKE TODAY'S BEST GROWTH FORMULA,WE COPIED A MILLION YEAR OLD SUCCESS!

Genetics aside, birth and puppy hood are the weakest link to superior adults. Major advances in human infant nutrition increase not just survival, but also health. APRL's goal was to develop the ultimate puppy growth supplement.

PEAK Grow is the first predigested formula designed to duplicate the powerful immunity and connective tissue growth factors in dog milk. PEAK Grow supplies vital immunity and connective tissue factors like alpha/beta caseins, Glucosamine and more. Grow will help to grow your puppy structurally sounder, not bigger.

Your new Kushinda puppy has already been on PEAK Grow since they began eating. Kushinda recommends that you keep your puppy on PEAK Grow at least until they are 6 months old.

A 4 lb Heavy Duty Bucket is only $40. Contact APRL to order.