FIELD CHAMPION Kushinda's Secret Spice of Wit CGC/TDI - Spice
AKC REG NO: HM41703307 Date of Birth: 5-16-92 Place USA
Breeder: A. Witter
Sire: CH Kwetu Rolling's Fling, OFA-G
Dam: Nynanyna Mharadzano of Wits
Color: Wheaten, Black Nose
Owners: Kimma B. & Kammi K. Hefner POB 21 Chambersburg, PA 17201
... otherwise known as Spices Ices, is a small sized Ridgeback bringing to Kushinda a beautiful wheaten color and a compact body!
She is the one Kushinda's dog that is close to the wild. Her heat cycles are quick to happen, with very little evidence. After breeding Spice goes out the next morning.
Spice is awesome on the Lure Coursing field. She is quick, fast, and extremely agile. Running in a 3-way course for the Best of Breed competition at the 1996 RRCUS 65th National Specialty. She was second only to her son, DUAL CHAMPION Multi-BIF Kushinda's I-Motion Via K Kru, JC, SC, FCh, LCM - Jean-Claude, the #1 AKC & ASFA Lure Coursing Dog 1996.
Spice has also produced FIELD CHAMPION BIF Kushinda's Design by K-Kru, FCh - Theodore and Kushinda's Akcess to The Top, JC, SC - Abbie-Gail.

---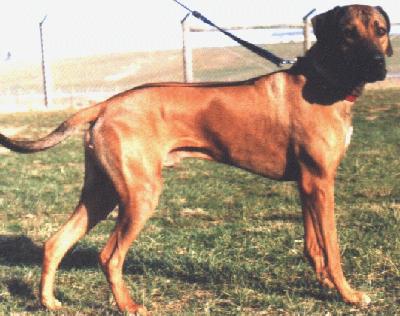 Ketaru Kushinda Van Isaac I Am - VanIsaac
AKC REG NO: HM38592203 Date of Birth: 3-31-96 Place USA
Breeder: S. Beach
Sire: CHAMPION Ridglea's Vartan the Master, ROM, CGC
Dam: Ketaru's Rodeo Drive
Color: Wheaten, Black Mask, Black Nose
Owners: Kimma B. & Kammi K. Hefner POB 21 Chambersburg, PA 17201
... otherwise known as "The Black Boy!, brings to Kushinda a deep dark wheaten color and a black mask. Standing proud at 27 inches and weighing in at 82 pounds, VanI is just beginning his careeer.
In the ring, so far a second place out of the puppy class in October 1997 and he was pulled in the Open class by Mrs. Canalizo at the RRCUS 67th National Specialty.
In the field, he also took a 4th place in his stake at the 67th RRCUS Specialty.
See more of Van Isaac on his personal home page!

---
TABLE OF INDIVIDUAL PUPPIES
---
Individual Puppy Pictures

---



Puppy Descriptions



Daley - Male, Wheaten, Black Nose, Ridgeless
Julia - Female, Wheaten, Black Nose, 1/4 Black Mask, Dual Champion (Will stay at Kushinda!)
Nick - Male, Wheaten, Black Nose, Ridgeless
Rhonda - Female, Wheaten, Black Nose, 1/4 Black Mask, Dual Champion (Will stay at Kushinda!)

Julia and Rhonda will be staying at Kushinda. However, Daley & Nick are available to Pet homes. As Ridgeles puppies Daley & Nick were neutered. True in every sense are the Ridgeless puppies: "We eat, sleep, run, play, and grow up just the others!" Daley tends to be on the bigger side of the two males.

With VanI's super easy going temperament, and Spice's ability as a Therapy Dog, each of these pups will be the perfect companion in the household.

---
New Puppy/Dog Owner's Interview/Application Form,
Sample Pet Contract ,
Health Guarantee ...
If you are interested in a Kushinda Fully-Functional Performance puppy/dog, please download and review Kushinda's Relevant Documents.