Abbie-Gail, JC, SC x VanIsaac, JC, SC Puppies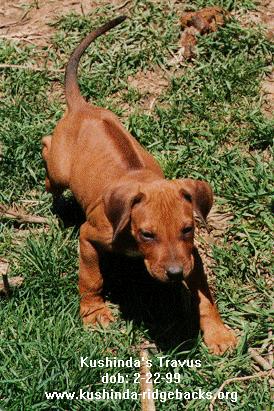 DOB: February 22, 1999
"The Fully-Functional Rhodesian Ridgeback"
KKB v3.0 &copy 1995-99 by Kimma B. and Kammi K. Hefner
Kushinda@pobox.com

This page was last created June 6, 1999.
This page was last updated December 8, 2000.

Kushinda's Akcess to the Top, JC, SC - Abbie-Gail
AKC REG NO: HM50434807 Date of Birth: 11-25-93 Place USA
Breeder: Kimma B. & Kammi K. Hefner
Sire: pointed Kushinda's Rahisi TikTok Jasri, CD, JC, SC, FCh, CGC/TDI, OFA-G
Dam: FC Kushinda's Secret Spice of Wits, OFA-G
Color: Red Wheaten, Liver Nose
Owners: Kimma B. & Kammi K. Hefner POB 21 Chambersburg, PA 17201


See Abbie-Gail's pedigree to learn more about the Kushinda line.

---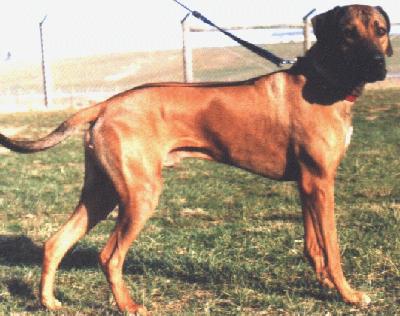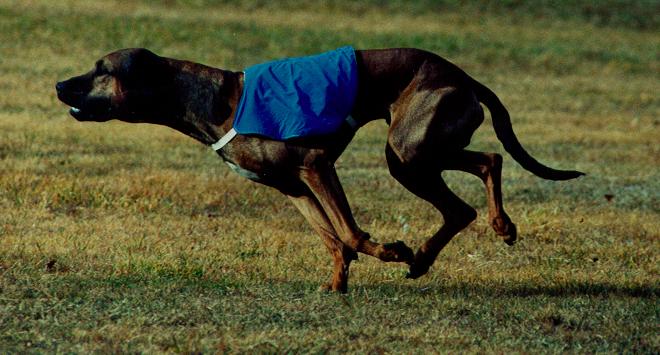 Ketaru Kushinda Van Isaac I Am, JC, SC - VanIsaac
AKC REG NO: HM38592203 Date of Birth: 3-31-96 Place USA
Breeder: S. Beach
Sire: CHAMPION Ridglea's Vartan the Master, ROM, CGC
Dam: Ketaru's Rodeo Drive
Color: Wheaten, Black Mask, Black Nose
Owners: Kimma B. & Kammi K. Hefner POB 21 Chambersburg, PA 17201


... otherwise known as "The Black Boy!, brings to Kushinda a deep dark wheaten color and a black mask. Standing proud at 27 inches and weighing in at 82 pounds, VanI is just beginning his careeer.

In the ring, so far a second place out of the puppy class in October 1997 and he was pulled in the Open class by Mrs. Canalizo at the RRCUS 67th National Specialty.

In the field, he also took a 4th place in his stake at the 67th RRCUS Specialty. Check out VanI's pedigree.

See more of Van Isaac on his personal home page!

---
Individual Puppy Pictures
---
New Puppy/Dog Owner's Interview/Application Form,
Sample Pet Contract ,
Health Guarantee ...
If you are interested in a Kushinda Fully-Functional Performance puppy/dog, please download and review Kushinda's Relevant Documents.

---
Return to

TOC KKB
"Leading the Luring Legend"
Sign the Kushinda Guest Book before you go!
KKB v4.1 &copy 1995-2001 by Kimma B. and Kammi K. Hefner
Kimma@pobox.com and Kammi@pobox.com